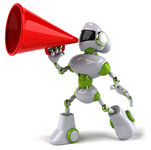 SMS messages is an easy and quick way to interact with customers.
Our SMS tool allows you to create engaging mobile messages and send them to your customers in minutes. SMS messages are convenient and personal. You can merge in your customers' names, company names or other details to help personalize the messages.

SMS is one of the fastest growing ways to reach out to your customers.
Most text messages are read within just minutes of being sent, because most people carry their mobile phones everywhere, so SMS is a highly effective and personal way to contact your customers. SMS messages are best kept short and sweet, which makes them the perfect format to send quick reminders, coupons and updates.

Schedule SMS delivery times
Set delivery dates and times. Run a SMS campaign at different times in a single day or spread it out over multiple days.

Price
RoboCallz does not charge for unsuccessful messages. RoboCallz only charges for successfully delivered calls. There are no hidden, monthly, or setup costs, you pay only for delivered messages.

Instant online set up and execution
Create, schedule and launch a full blown SMS campaign instantly right from the RoboCallz web-site. Send notifications, reminders or alerts with RoboCallz. SMS broadcasting, it's fast and it's easy.

Lists
RoboCallz can use your existing lists in comma delimited format.

Automatic removal of duplicate numbers
This feature ensures that you do not send duplicate messages to the same recipients and saves you money by removing these numbers from your list prior to launching your SMS campaign.